The Sun Today : Updated October 23, 2014
Solar Flare Risk

M-Class: 95%

X-Class: 55%




Active Watches

Geomag. Storm NO

Radiation Storm NO
| | | |
| --- | --- | --- |
| | Solar X-Rays: | Geomagnetic Field: |
3-Day Geomagnetic Forecast [Details]
October 23

October 24

October 25

4 (G0)
Max Kp

4 (G0)
Max Kp

3 (G0)
Max Kp

Prob-M 10%
Prob-H 40%

Prob-M 10%
Prob-H 40%

Prob-M 05%
Prob-H 25%
REAL TIME SOLAR WIND - [ACE]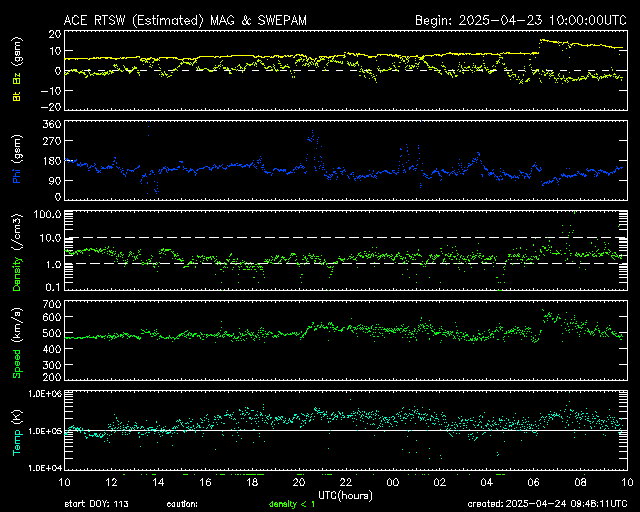 Click for more data >>
GLOBAL D-LAYER ABSORPTION
[Expand]
[Expand]
[More Magnetometers]
SolarHam is a website all about the Sun and how it affects Earth. It is also an Amateur (Ham) Radio website.

SolarHam is routinely updated with breaking news, sometimes hours before other Space News websites. You can trust SolarHam.com for the most up to date and accurate solar information on the internet.

SolarHam.com launched on March 15, 2006. The purpose of the website is to provide real time solar news, as well as data from various sources, all located in one spot for easy navigation. Sources include,

NOAA Space Weather Prediction Center (SWPC),
Solar Dynamics Observatory (SDO),
Solar and Heliospheric Observatory (SOHO),
Solar Terrestrial Relations Observatory (STEREO),
Advanced Composition Explorer (ACE),
Large Angle and Spectrometric Coronagraph Experiment (LASCO),
as well as many others.

This website is only online because of the kind financial support of its users and sponsors. If you would like to support the work that I do, please consider a donation if at all possible. Click HERE for more information.
40,000,000
Unique Visitors
Since April, 2006
Thank You!

AVERAGES | SEPT. Solar Flux 146.1
| Sunspots 127.4
| Flare Max X1.6
Welcome to SolarHam.com &nbsp All of your solar and aurora needs in one place!
LATEST SPACE WEATHER NEWS AND UPDATES

ZeroFive is located in the United States and specializes in multi-band vertical antennas and much more.
Off The Map Travel

Wishing you could see the northern lights?
Make that dream a reality!
Visit Off The Map Travel today.
Updated 10/23/2014 @ 11:45 UTC
Solar Update
Good morning. Here is an updated look at the visible solar disk, along with active region (AR) 2192 on Thursday. Solar activity during the past 24 hours was high. AR 2192 was responsible for a strong X1.6 solar flare on Wednesday peaking at 14:28 UTC. Unfortunately for sky watchers, the latest event again failed to produce a coronal mass ejection (CME). The active region also produced a few M-Flares, including an M1.1 at 09:50 UTC Thursday morning. AR 2192 expanded to a size of 2700 millionths which puts it on par, at least in terms of total area coverage with legendary Cycle 23 sunspot 486 from October 2003. AR 2192 is now in a near perfect geoeffective position for Earth directed eruptions. The cluster still maintains a complex Beta-Gamma-Delta magnetic configuration and could produce additional moderate to strong solar flares. Elsewhere, a region located near the southeast limb produced an M1.4 flare at 15:57 UTC Wednesday, along with a handful of C-Flares. All other visible regions are currently stable.
Updated 10/22/2014 @ 17:35 UTC
Here We Go Again
Region 2192 produced another strong solar flare, this time peaking at X1.6 at 14:28 UTC. An R3 radio blackout producing significant HF signal fading was observed on the sunlit side of Earth during the height of the flare. Unfortunately for sky watchers anticipating a coronal mass ejection, just like all previous events around 2192 up until this point, a noteworthy CME does not appear evident. The active region continues to move into a geoeffective position. Perhaps our luck will change. Stay tuned. Click HERE for the X1.6 event log.
---
Older News Archive | Current Month


Prepared jointly by the U.S. Dept. of Commerce, NOAA,
Space Weather Prediction Center and the U.S. Air Force.
UPDATED 2014 October 23 1230 UTC

.24 hr Summary...
Solar activity was high. Region 2192 (S15E01, Fkc/beta-gamma-delta)
produced an X1/2b (R3-Strong) flare at 22/1428 UTC with an associated
200 sfu Tenflare. Careful analysis of SDO and SOHO/LASCO imagery
suggested that there was not a CME associated with this event.  

An M1/1f (R1-minor) flare was later observed from Region 2192 at 23/0950
UTC.  The region continued to grow and SDO magnetogram imagery indicated
pulsating positive flux within the large trailer spot cluster.

An M1 flare was also observed at 22/1557 UTC off the southeast limb
associated with a Bright Surge on the Limb (BSL) and a Type II radio
sweep (1469 km/s). The CME, visible at 22/1612 UTC in SOHO/LASCO C2
imagery is well off the Sun-Earth line and is not expected to be
geoeffective.  A second CME from this location was observed at 22/2136
UTC in C2 imagery.

A third CME was observed in C2 imagery at 22/1736 UTC erupting from the
south.  This event appeared to be correlated with a narrow plume of
material ejected from the southern portion of Region 2192 beginning
around 22/1600 UTC as seen in SDO/AIA 304 imagery.  This event is also
not expected to be geoeffective.

New Region 2195 (N07E66, Dso/beta) was numbered as it rotated onto
the northeast limb.  Consolidation of the leader spots was observed
within Region 2193 (N06W38, Dao), which also developed a beta-gamma
magnetic configuration.  The remaining regions were stable or decaying.

.Forecast...
R1-R2 (Minor-Moderate) flares are expected with R3 (Strong) activity
likely over the next three days (23-25 Oct) due to an increase in
magnetic complexity within Region 2192.

[Full Report and Forecasts]
[Report of Solar-Geophysical Activity]


A - Alpha (single polarity spot).
B - Beta (bipolar spot configuration).
G - Gamma (atypical mixture of polarities).
BG - Beta-Gamma (mixture of polarities in a dominantly bipolar configuration).
D - Delta (opposite polarity umbrae within single penumbra).
BD - Beta with a Delta configuration.
BGD - Beta-Gamma with a Delta configuration.
[Latest NOAA Sunspot Summary]
[Latest Solar Region Summary (SRS)]
[SolarHam Sunspot Summary]